Correction to: A cluster randomized controlled trial for a multi-level, clinic-based smoking cessation program with women in Appalachian communities: study protocol for the "Break Free" program
Addiction Science & Clinical Practice volume 17, Article number: 21 (2022)
Following publication of the original article [1], minor errors were found in Fig. 2, the corrected figure is provided below: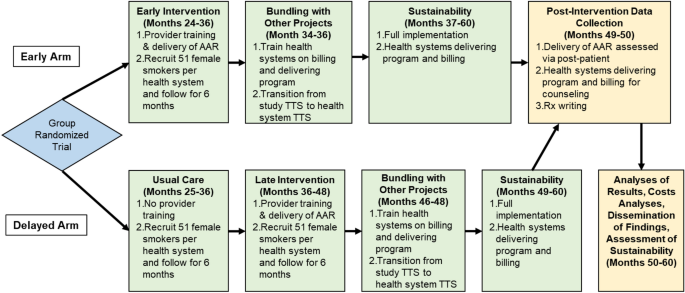 The original paper has been updated.
Reference
Patterson JG, Borger TN, Burris JL, Conaway M, Klesges R, Ashcraft A, Hauser L, Clark C, Wright L, Cooper S, Smith MC, Dignan M, Kennedy-Rea S, Paskett ED, Anderson R, Ferketich AK. A cluster randomized controlled trial for a multi-level, clinic-based smoking cessation program with women in Appalachian communities: study protocol for the "Break Free" program. Addict Sci Clin Pract. 2022;17:11. https://doi.org/10.1186/s13722-022-00295-5.
Additional information
Publisher's Note
Springer Nature remains neutral with regard to jurisdictional claims in published maps and institutional affiliations.
Rights and permissions
Open Access This article is licensed under a Creative Commons Attribution 4.0 International License, which permits use, sharing, adaptation, distribution and reproduction in any medium or format, as long as you give appropriate credit to the original author(s) and the source, provide a link to the Creative Commons licence, and indicate if changes were made. The images or other third party material in this article are included in the article's Creative Commons licence, unless indicated otherwise in a credit line to the material. If material is not included in the article's Creative Commons licence and your intended use is not permitted by statutory regulation or exceeds the permitted use, you will need to obtain permission directly from the copyright holder. To view a copy of this licence, visit http://creativecommons.org/licenses/by/4.0/. The Creative Commons Public Domain Dedication waiver (http://creativecommons.org/publicdomain/zero/1.0/) applies to the data made available in this article, unless otherwise stated in a credit line to the data.
About this article
Cite this article
Patterson, J.G., Borger, T.N., Burris, J.L. et al. Correction to: A cluster randomized controlled trial for a multi-level, clinic-based smoking cessation program with women in Appalachian communities: study protocol for the "Break Free" program. Addict Sci Clin Pract 17, 21 (2022). https://doi.org/10.1186/s13722-022-00304-7
Published:

DOI: https://doi.org/10.1186/s13722-022-00304-7